This post was originally published on this site
Who's up, who's down, and why
Welcome to our regular look at the most popular blockchain games, using data from DappRadar.
While longer term trends in force, November has demonstrated that high quality blockchain games – notably Axie Infinity and Upland – can continue to grow their audiences.
Splinterlands remains the #1 blockchain game in terms of daily activity, regularly attracting 6,000 daily active unique wallets.
It's also currently attracting around 10,000 on a weekly basis and over 18,000 active wallets on a monthly basis.
Monopoly-style mobile game Upland continues its rise. Its daily total is now approaching 4,000 daily active unique wallets, up from under 2,000 in early June.
On a monthly basis, it's attracting over 12,000 active unique wallets.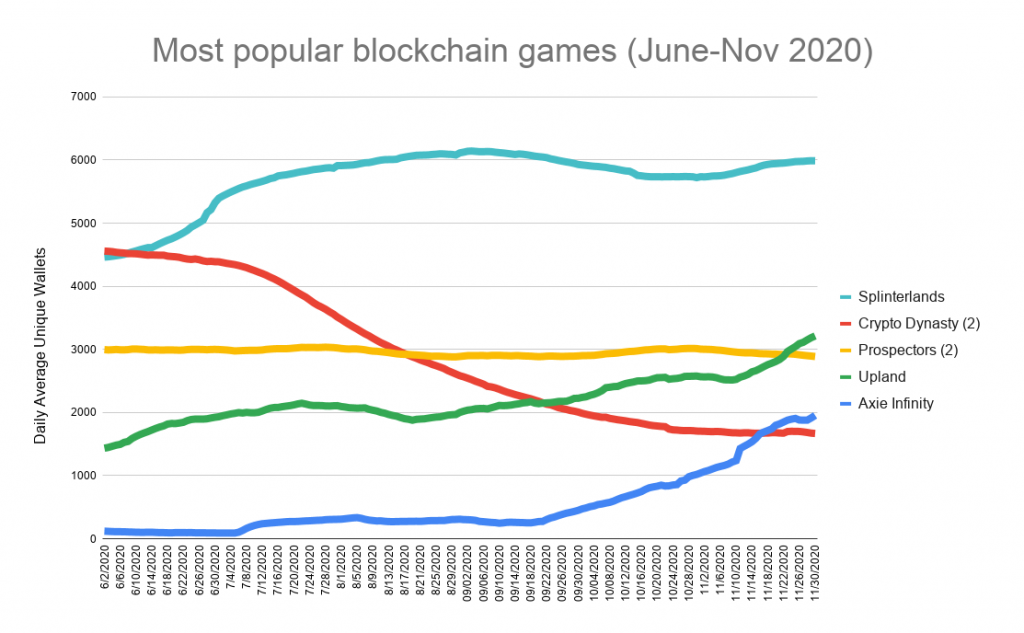 Another game continuing to rise strongly is Axie Infinity.
From a couple of hundred active unique wallets daily in early June, the economics around its two tokens – AXS and SLP – combined with the trading of its Axie NFTs has boosted its daily activity to over 2,000 unique wallets.
On a monthly basis, its total is over 17,000 active unique wallets.
Finally, this month, it's worth taking a lot at what's happening to My Crypto Heroes, which was the most popular blockchain game in January 2020, with around 4,000 daily active unique wallets.
This total was massively impacted by rising gas prices on the Ethereum blockchain due to the DeFi explosion during the summer and early autumn.
This resulted in My Crypto Heroes' onchain activity dropping to the tens of wallets in August through to early October. It has since recovered somewhat, reaching almost 800 daily active unique wallets in late November.
---
Check out our Top 50 Blockchain Game Companies list here.
And continue the discussion in our Telegram group and don't forget to follow BlockchainGamer.biz on Twitter and YouTube.